Autoracks
Autoracks
Model Information
: Con-Cor released this model sometime in the late 1980s or 1990s. Con-Cor markets these as Tri-Level autoracks, but it is clear from the end-doors that these are bi-level models. They are a copy of the Walthers HO autorack kit. Unlike many Chinese-made models from the 1980s and 1990s, these use metal wheelsets (or at least the sample we have does). They are weighted with two 1/4 oz weights inside the model, one at each end, presumably to improve tracking.
Prototype History
: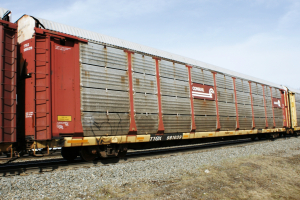 For many years, automobiles were carried in boxcars like other freight. The relative light weight of the cars for their size meant that these boxcars reached their volume capacity far faster than their weight limit. Loading cars through the side doors was also challenging and inefficient. End door boxcars helped with the loading, but could still only be loaded one at a time. Due to these limitations, modified flatcars, known as autoracks, began to appear in the 1960s. At first, these cars were open sided, with the cargo exposed, but later cars added the protection of aluminum sides to enclose the automobiles within.
Enclosed autoracks come in two basic configurations. Bi-level racks have a two decks: the floor of the flatcar itself, as well as one elevated deck. These cars can haul two rows of taller vehicles like vans and trucks. Tri-level racks have an extra deck and can carry three rows of conventional automobiles. Up until the 1990s, tri-level cars were far more common, but with the rise in popularity of the SUV, the number of bi-level cars has grown quickly over the past 20 years.
Brand/Importer Information
:

Con-Cor
has been in business since 1962. Many things have changed over time as originally they were a complete manufacturing operation in the USA and at one time had upwards of 45 employees. They not only designed the models,but they also built their own molds, did injection molding, painting, printing and packaging on their models.
Currently, most of their manufacturing has been moved overseas and now they import 90% of their products as totally finished goods, or in finished components. They only do some incidental manufacturing today within the USA.
---
Refine Search
Showing 1 to 1 of 1 (1 Pages)